The William Fifield Collection
Radio scripts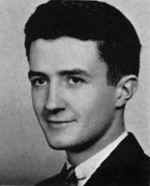 While attending Whitman College in Washington state, William Fifield began to do public speaking and became the college debating champion for the Pacific Northwest. CBS hired him to work as a radio announcer upon graduation.

During his years in radio, he worked at CBS and NBC, in Chicago, New York, and then Hollywood. In addition to announcing, he became a scriptwriter and a program director. He also began writing short stories, winning an O. Henry in 1943 at the age of 27. In 1950, he moved to Europe to become a full-time writer.
Senior year, Whitman College, 1937
Radio plays, adaptations, and audio clips
Presented in the "Suspense" radio program:
Considered one of the best mystery series on radio, "Suspense" was broadcast by CBS. The weekly anthology show ran for twenty years, from 1942 to 1962.
"Noose of Coincidence"
Short story by William Fifield, radio adaptation by Herb Meadow

Stars: Ronald Colman and Hans Conried

Episode 335, broadcast April 7, 1949

The life of a single, happily bookish bookstore owner gets overturned when a visitor to his shop claims he can predict his future.

("Noose of Coincidence," 101-second MP3, 396 KB)
"Where There's a Will"
Short story by Agatha Christie, radio adaptation by William Fifield

Stars: James Mason and his wife, Pamela Kellino

Episode 329, broadcast February 24, 1949

A man beset by gambling debts hopes to trick his wealthy aunt into a speedier demise. This Christie short story went under the title of "Wireless" in the U.K.

("Where There's a Will," 50-second MP3, 196 KB)

Audio clips courtesy of Bruce Wilson; see the bottom of the page for credits and links.

Presented in the "Jeff Regan, Investigator" radio program:
"My name's Jeff Regan. I get ten a day and expenses from a detective bureau run by a guy named Lyon—Anthony J. Lyon. They call me the 'Lion's Eye.'"

And with this introduction, the tough private eye would launch into his weekly tale.

The detective show had its debut in July of 1948 on CBS. Jack Webb, who later appeared in "Dragnet," played the title role. The show ended the following December. Brought back on the air in October of 1949, it ran for another year.

William Fifield and another scriptwriter, William Froug, wrote the episodes for the show's 1949-1950 season. Frank Graham played Regan during this second run.

According to Tune in Yesterday, an encyclopedia of old-time radio, the character of the detective underwent a change with the new cast and writing team: "The chip on the shoulder disappeared, and Regan became a staunch champion of the underdog."
Presented in the "Lights Out" radio program:
A late-night, nationally popular horror show, "Lights Out" had intense and effective sound effects and attracted performers such as Boris Karloff. Starting out on a local Chicago station in 1934, the show moved to network radio, first airing on NBC, then on CBS, and finally on the Mutual network, coming to an end in 1947.

William Fifield wrote several scripts for the program in 1939. At the time, the weekly half-hour show was broadcast by NBC.
"Dilu"
24 pages, pen name Belena Mirr, broadcast March 29, 1939
"The Blood of the Gorilla"
21 pages, pen name Weir Grimm, broadcast April 5, 1939
"The Retribution of Edward Scurr"
21 pages, broadcast May 3, 1939
"Lady Macbeth"
23 pages, broadcast June 28, 1939
"The Giggler"
26 pages, broadcast July 26, 1939
"The Day of the Four"
26 pages, broadcast August 16, 1939

Request for audio clips and radio play information
I would be interested to hear of more radio programs by my father. He did not keep any records of his radio career, and I am not familiar with that part of his life. I am putting together a digital archive of his work, The William Fifield Collection.
While he was in radio, he wrote for Orson Welles' "Mercury Theatre on the Air," "The Lives of Harry Lime" (a program in which Welles portrayed the character he played in "The Third Man"), and numerous other shows.
I would like to find out if any audio recordings still exist of the "Lights Out" scripts, and if anyone has information about scripts he might have written for "The Shadow."
If you know of programs or audio clips of radio shows my father worked on, or have corrections for these listings, please contact me at timestwo@aol.com.
—Donnali Fifield

More audio available at The William Fifield Collection: Recorded conversations with Marcel Marceau and Jean Cocteau
Books, essays, and wine writings: The William Fifield Collection
Sources and acknowledgments for the radio scripts and clips
"Suspense" audio clips courtesy of Bruce Wilson, an assistant professor of chemistry at Utah Valley State College in Provo, Utah, and a fan of classic radio who has collected a catalog of the show's programs on his site

Source for the program information for the "Suspense" listings: the RadioGOLDINdex, a database of shows from the golden age of radio compiled by J. David Goldin

Script information for the "Lights Out" programs: the SciFiGuy, a fan site for science fiction, fantasy, and horror audio dramas

Reference for background information on the shows: Tune in Yesterday: The Ultimate Encyclopedia of Old-Time Radio 1925-1976 by John Dunning (Prentice-Hall, 1976)
Thanks to Marla Cassida Fifield, William Fifield's daughter-in-law, for bringing my attention to the "Jeff Regan, Investigator" and "Lights Out" programs, and finding links to these shows on the Web.
Donnali Fifield is the author of William & Wendell: A Family Remembered and the daughter and literary executor of William Fifield.

Back to The William Fifield Collection contents page
---